There's something so luxurious about lounging in a hot bath, candles on,  glass of wine in hand and binge watching one of your favorite series. More and more modern homes feature a stunningly set-up Bathroom TV.
Quality Bathroom Renos specialise in bathroom renovations and can give expert advice to help you incorporate a TV in your bathroom. Here are some things you will need to consider before installing yours: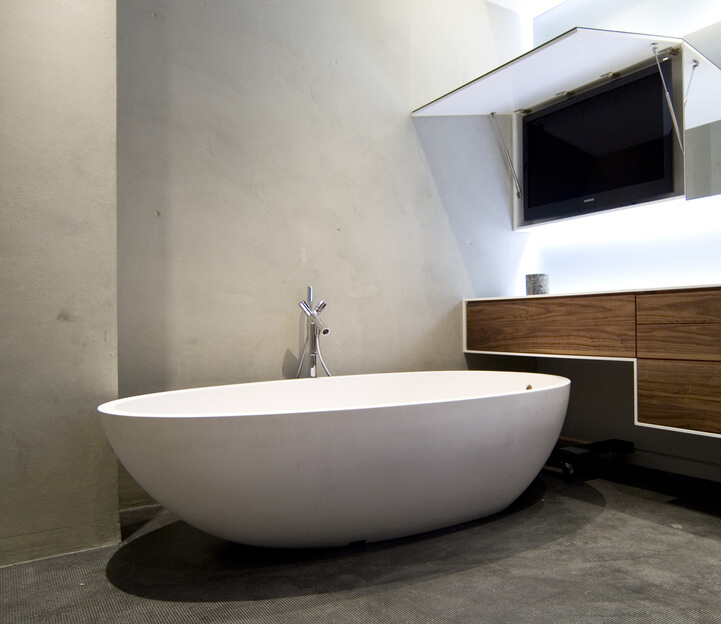 Things to Consider When Installing A Bathroom TV
Bathroom TV's are a modern luxury which seem to be an upcoming trend. Why not catch up on the news during your morning routine?
Still, installing a bathroom TV isn't as easy as just re-wiring your spare television into the bathroom. We have gathered information from TV installation experts on how to make sure your bathroom TV is installed properly and in the perfect spot! 
The most commonly used application is a simple wall-mounted television. However, there are so many creative ways to incorporate the TV into your bathroom's aesthetic. More so, you can't just choose any old TV for the bathroom. 
Here's a look at what you need to know:
Finding the Right TV
Contrary to popular belief, you can't just pop any standard TV into your bathroom. Standard television sets are not manufactured to withstand moisture or steam. 
Luckily, there are many Waterproof televisions on market for you to choose from. Some waterproof televisions even have anti-fogging capabilities which ensure a clear crisp visual at all times. 
We would recommend a Smart Waterproof TV so you won't have to deal with excessive cabling and dish box placement etc. 
For those wanting a really futuristic look in their bathrooms, you could even consider a mirror integrated television. This means your screen is inside your mirror. Functional when you want to use it and discreet when you don't.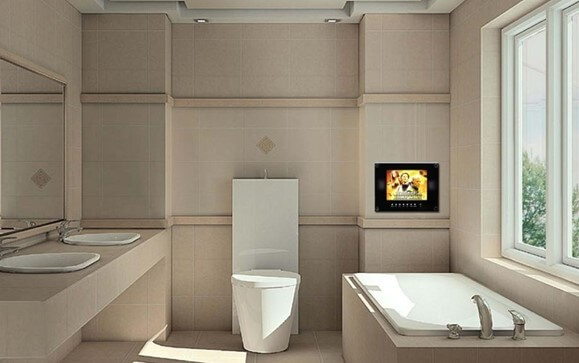 Where to Put Your Bathroom TV
Quite frankly, you could put your TV really anywhere you want it. Still, you want to make sure that it's not an overpowering feature within the aesthetic of your bathroom. Most people will want the TV to work within their design. 
The most important factor you'll need to consider is viewpoint. Do you want the TV to be seen from the shower, tub, vanity or all 3? 
With clever installation, you can have your bathroom TV in a perfect optical view, without making it a focal point in your bathroom. 
Here's some common applications you can consider: 
Flat Wall Mounted.
Wall mounted TV's are great when you're considering one main focal point. This type work really well mounted to the wall at the end of the tub, for instance. 
Some interior designers even recommend creating a type of alcove around the flat mounted TV, perhaps between cupboards.
Corner Mounted.
You can mount your television in the corners of your bathroom or vanity. These are generally unused spaces, so why not pop a TV in them? 
Consider using a swivel mount for corner mounting as this allows you to move the tv to the angle of your choosing. 
In Your Cupboard or on A Shelf
This is a great idea for those hoping to preserve a clean and finished look in their bathroom.
Reserving a space in your bathroom cabinetry allows the TV to really blend into your bathroom aesthetic. 
More so, if you're looking a smaller screened TV, why not simply pop it onto a bathroom shelf. Sweet and simple.
For any type of TV mounting, we recommend contacting a TV Wall Mounting installation specialist. They will help you ensure you have the right spot and make sure your TV is mounted safely and up to code.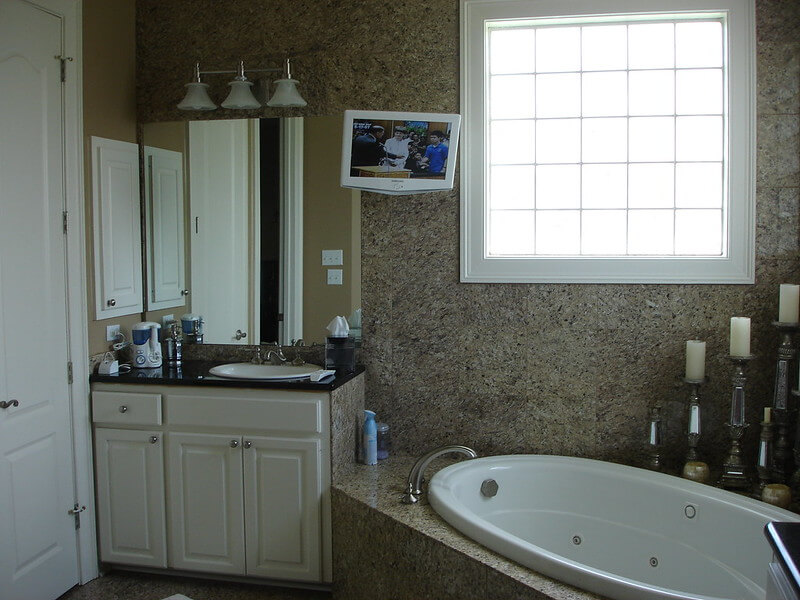 All About Aesthetic
You really won't want your bathroom TV to take away from the beauty of your bathroom space, but rather to enhance. 
Think about how the placement of your TV will flow within your bathroom. Your bathroom TV shouldn't be a cumbersome eye-sore. 
You can consider preserving the look of your bathroom by hiding your TV inside a cupboard or by mounting it into the wall or a built in TV cabinet. 
The most important thing when installing a bathroom TV is properly planning beforehand. Finding the right TV and the right mount can make all the difference in your investment. Having a bathroom renovation that suits your needs and budget will help you achieve the bathroom of your dreams.
Consider contacting a TV installation specialist to advise you on the best installation spot in your bathroom.