Laundry Renovations Sydney
Do you enjoy doing your washing and ironing?
I thought so…
Allow Quality Bathroom Renos in Sydney to give your laundry a renovation. Having a space that is practical and appealing will make the task of washing easier, efficient and more enjoyable.
Let's face it; we spend a lot of time doing laundry. So why not make it a space that is easy to use as well as visually pleasing? 
Believe it or not, you can have a laundry room that is functional and beautiful.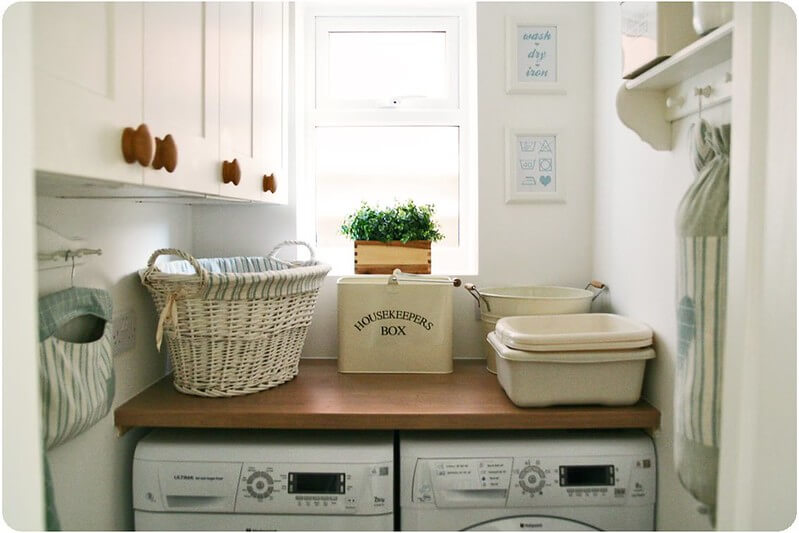 Designing your Laundry Room
When planning laundry renovations in Sydney we need to take into account functionality.
It doesn't matter how nice your room looks, if it doesn't have a smooth flow it isn't serving its purpose.
We can work with you to find out what solutions are best to change a cluttered disfunctional laundry to a space that is fit for purpose and one that will make laundry day a breeze.
Things to consider when renovating a laundry:
Functionality
Making your space functional can make tasks easier and more bearable. Think about the placement of everything so that you don't have to put in more work than necessary. Having your washer next to your dryer is a given. But what do you want next to your dryer? A folding table, a counter top or maybe a pull out ironing board? Put things where they can be easily accessed and used.
Efficiency
Make the room as efficient as possible. Add plenty of storage. Add shelves in unused corners. Have the detergent and softener in direct reach of your washer and dryer. Use baskets for organisation. Make the room work for you.
Lighting
Lighting is as important in your laundry room as it is in any other part of your home. Proper lighting is useful and will add to the ambience of the room. Daylight balanced lighting will make the room more comfortable and inviting. Lighting also allows you to look for stains so that they can be treated before the clothing is washed.
Flooring
Having durable waterproof flooring is an important aspect when planning laundry renovations in Sydney. Flooring needs to be tough, yet provide safety. Water can get on the floor and without the proper flooring, you can slip and fall.
Storage
We can never have enough storage. Keeping a well-organised laundry area can provide a stress free environment. Nobody wants to walk over clothes on the floor or have to search for detergent or stain remover. Having a designated place for all your items makes things easier for everyone.
Folding Area
Instead of pulling out your laundry and throwing it in a basket, fold it while you are taking it out. This helps save time and prevents wrinkles.
Clearance
Take into consideration clearance. You need to have room to work. If your washer door won't open up all the way, you are going to have an issue getting your clothes out. If your cabinet door opens into the side of your dryer, you will not be able to get the best use out of that cabinet. If there are gaps, items will fall in them. Close gaps and make all your space usable.
Let's Get the Most out of Your Laundry Renovation in Sydney
At Quality Bathroom Renos, we know how to give our clients exactly what they want.
We will work with you and provide you with a laundry room that you cannot wait to use.
We renovate laundries from Western Sydney to the North Shore past the Eastern Suburbs down to Sutherland Shire. If your in the Greater Area of Sydney be sure to give us a call for a competitve price and high quality job.
Give us a call today to learn more about the other
laundry renovations in Sydney
that we have completed.
Want to chat about your bathroom renovation in Sydney?
Get in touch with our friendly team at Quality Bathroom Renos.