Over 20 percent of Australians live with a disability, which is why most commercial workplaces and buildings with toilets are expected to provide unisex accessible facilities.
Accessible toilets and bathrooms are also vital in homes if an elderly relative or family member lives with a disability.
A disabled bathroom design features handrails, wheelchair access, wider doors, step-free showers, good lighting, higher toilet seats and more – delivering a crucial solution for those less mobile to stay safe and independent.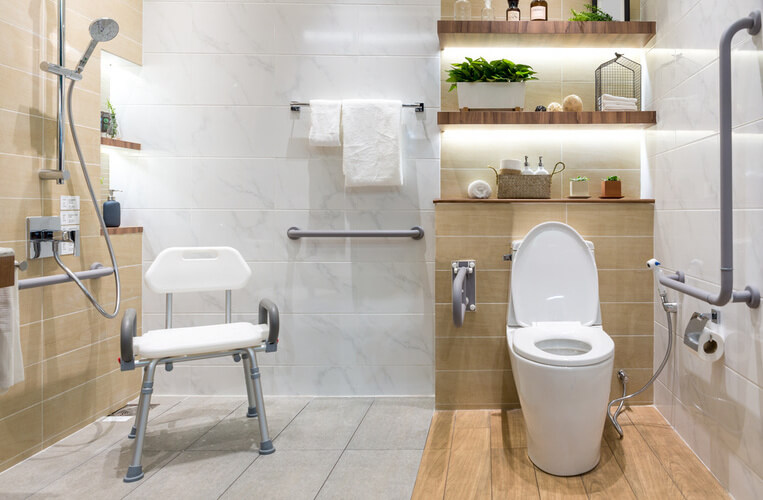 Importance of a Disabled Bathroom for Less Mobile Family Members 
If you or someone in your family lives with a disability, you no doubt already know the challenges. Residential bathrooms with traditional design elements and no disability access can be extremely difficult and dangerous for disabled people. 
On the other hand, a well-thought-out bathroom design with handicap-accessible products will create a practical and safe environment that fosters independence. 
Top Features of a Disabled Bathroom Design 
The biggest priorities for a handicap bathroom renovation are access and mobility.
We've put together 5 critical features of a disabled bathroom if you're considering a bathroom renovation or intend to add a new bathroom to your home. 
Wide Doors
Traditional bathroom doors are narrower, which makes it hard for someone in a wheelchair. Widening the bathroom entrance door will make it easier to get in and out without having to depend on someone else. The door should ideally swing outward because this allows for more space inside the bathroom. Alternatively, a sliding door might be a good choice too in areas where space is a consideration.
Grab Rails
Grab rails are an essential feature of a disabled bathroom because they provide stability and mobility. They should be strategically placed in the shower, near the toilet seat and the sink area. Keep in mind that any bathroom design must accommodate for greater structural support in every wall where grab rails are fitted for enhanced safety. 
Higher Toilet Seats
To provide easier accessibility for those less mobile, guidelines dictate that toilet seat heights should be between 460mm and 480mm. There should also be a minimum clearance of 900mm between the toilet seat and any adjacent wall or privacy screen with an ideal load rating of 150kg.
Larger Shower Areas
Sufficient thought must be given to the shower area to better accommodate your family member. This could include important features like larger spaces, level access, hand showers, grab rails, shower curtains instead of screens, non-slip tiles, slip resistant seats, clothing hooks at accessible heights and more.
Lower Sinks, Vanities and Mirrors
You might need to lower the height of your bathroom sink, vanity and mirror to better accommodate the needs of a less mobile family member. For example, wheelchair-bound family members will benefit tremendously from wall-mounted sinks and vanities with adequate clearance space underneath for better knee room. Similarly, taps should also be easy to turn on and off without having to adjust any settings. Here, thermostatic mixing valves and lever taps will come in handy for those with mobility issues and arthritis.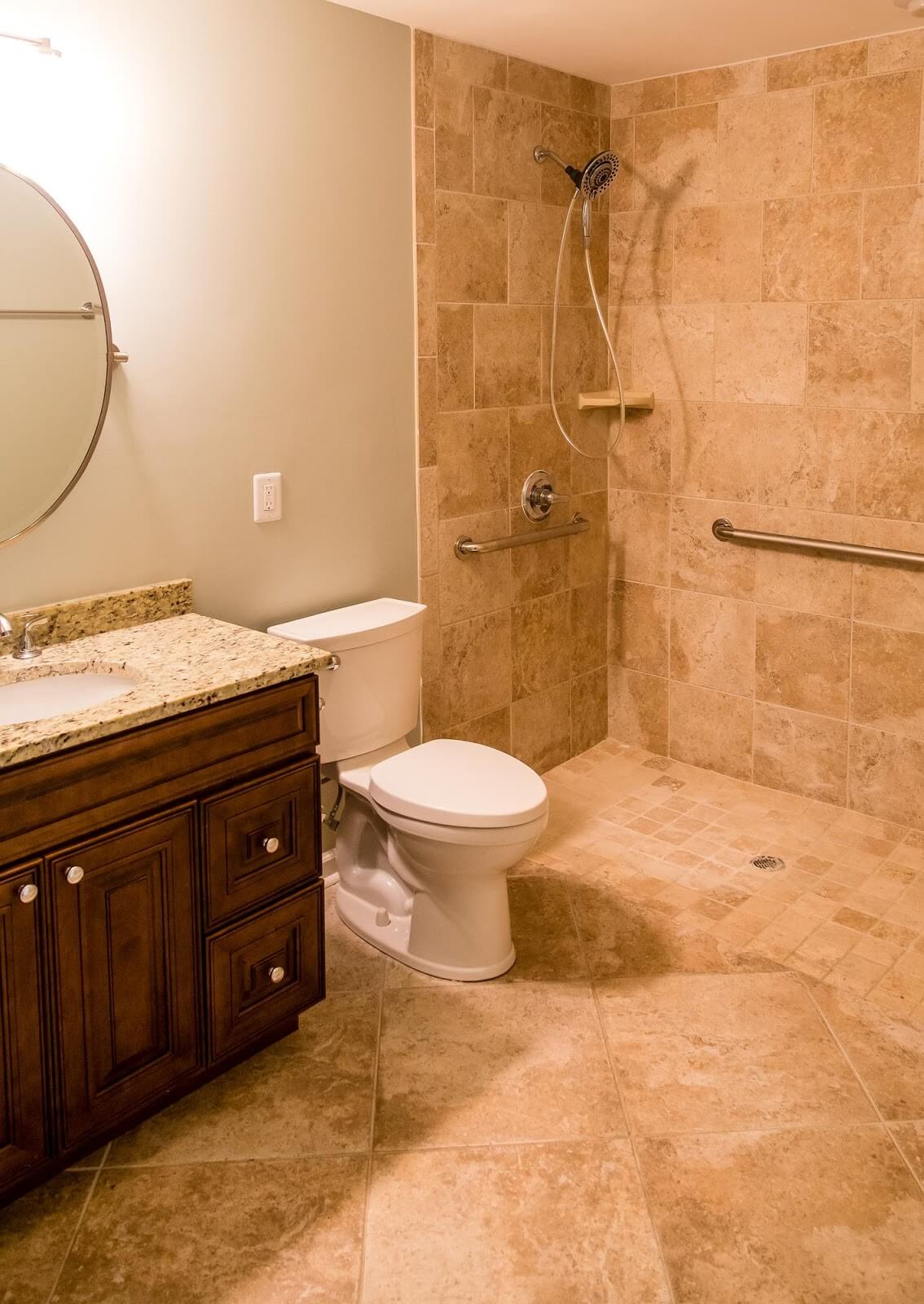 Costs Involved in Disabled Bathroom Renovations 
The costs of disabled bathroom renovations will vary based on the size of the bathroom, the accessibility needs you must accommodate, the materials you choose and the size of your bathroom. 
A renovation that incorporates all critical features (with plumbing changes and lighting additions) can cost between $18,000 and $30,000. If you are looking to build a new disabled-friendly bathroom in an existing space, you should set a budget of at least $30,000 aside. 
To put this into perspective, a regular bathroom renovation in Sydney costs nearly $20,000 on average, depending on the size of the bathroom and standard of finish. 
Getting Your Accessible Bathroom Renovation Right the First Time 
Just like regular bathroom overhauls, accessible bathroom renovations require careful planning and design at the start because of the special needs involved. Mistakes can be expensive and dangerous for less mobile family members, which is why we encourage you to work with an experienced professional to get it right the first time.
Before you finalise anything, be sure to talk to the experienced contractors at Quality Bathroom Renos who understand the complexities and prerequisites of disabled bathroom renovations or new builds. We work with you to understand your specific needs and will tailor a design plan exclusively for your home.